This is the main facility where most of the events are held. Several ranges, including 2 mover, Bianchi barricade, two 50 yd Bianchi practical, 250+ yd rifle, falling plates. Dedicated classrooom building, running water, bathrooms, kitchen.
Directions: Take I-70 to Hwy 63 exit North (towards Moberly). Go north on 63 for about 2 miles, then take Route B towards Hallsville. Go towards Hallsville for about 8 miles, and turn left on Academy Road. Go down Academy Rd. about half a mile, then turn left at the gate, right before the pavement ends.

See the Hallsville range on Google Maps( 1806 clicks )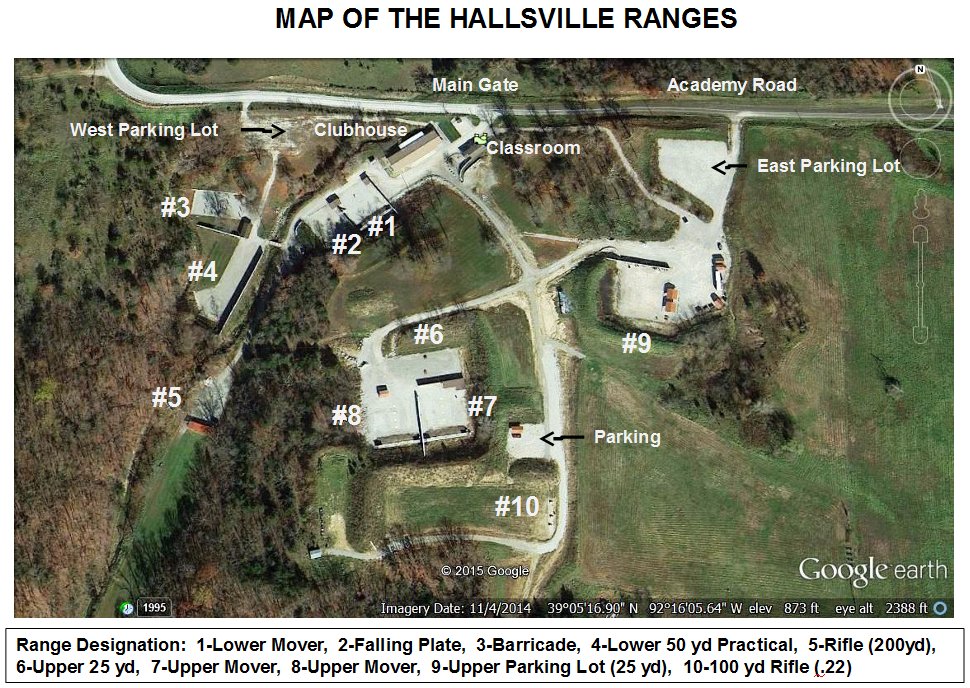 This is the original facility established in the 1950's. It has a falling plate range, several other pistol ranges, mover, an indoor .22 range. Rifle range is closed indefinitely to everything but board approved supervised activity. No running water, but there's a creek and some port-a-potties.
Directions: Take I-70 to Lake of the Woods exit, North. Take E. St. Charles Rd., and turn North on Lake of the Woods Rd. Take left (West) on Mexico Gravel Rd., and half a mile later, take right (North) on N. Wyatt Ln. Wyatt Ln. will turn into gravel, then meet up with N. Hinkson Creek Rd. Take right to stay on Wyatt. About a quarter mile down, right before a sharp left turn and a junkyard, is entry gate to the range. The gate is on the right.
These directions may seem complicated, but the trip is worth it - the drive is shorter, and the range has its own special atmosphere to many members.

See the Columbia range on Google Maps( 2591 clicks )